Nylon Alpine Packable Short 'Yosemite Blue'
Sale price
$63.00
Regular price
$90.00
No International Orders are allowed for this item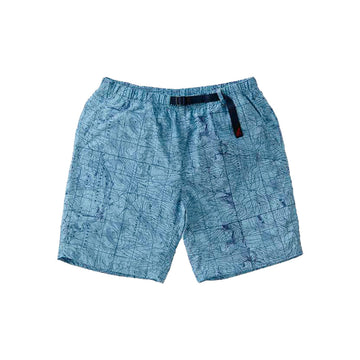 Nylon Alpine Packable Short 'Yosemite Blue'
Product description
Order and exchanges
Product reviews
Because these Nylon Alpine Packable Shorts are packable, you can bring them with you anytime and anywhere, whether in the mountains, sea or city streets. These outdoor shorts feature a dry smooth texture that feels like an ironed material. These packable men's shorts are also water-repellent, wind-resistant, and amphibious, meaning these shorts can be used in water such as pools or the sea, making them incredibly versatile. These graphic men's shorts are decorated with a Yosemite topographic map motif.
 
Packable shorts
Topographic map graphic print shorts
Water-repellent and wind-resistant shorts
Male Model - Height: 5'11" - Wearing size Medium
At the moment, we are only accepting orders within the United States. Merchandise availability is subject to change. Once the order is placed, the order cannot be changed. We have the right to decline orders if the customer information cannot be verified. In the case that the order is cancelled, we will refund to the original payment method.

We do not offer exchanges. If you want the item you purchased in a different size or color, you will need to place a new order and return the unwanted item for a refund.
Liquid error (sections/nosto-product line 1): Could not find asset snippets/nosto-element.liquid Liquid error (sections/nosto-product line 2): Could not find asset snippets/nosto-element.liquid Liquid error (sections/nosto-product line 3): Could not find asset snippets/nosto-element.liquid